Ten years ago, Bruce Brown and Luke Jackson teamed up to run a coffee lounge in Carlisle. Back then, they could never have foreseen the whirlwind journey this venture would take them on.
When the previous owners relocated to London, the two entrepreneurs took over the reins of the Foxes Café in Carlisle, fuelled with energy, enthusiasm and coffee.
The learning curve was steep admitted Luke, saying "Neither of us had run our own business before but we liked the sound of it. We knew there would be some challenges, but we weren't quite prepared for the huge ups and downs that followed. Initially we adopted a beg, borrow and steal approach to get the business up and running, along with help from family and friends".
As they worked together tackling the inevitable array of issues and tasks that the hospitality sector is known for, they gained vital knowledge and experience that would serve them down the road.
"Every time we encountered a problem, we dealt with it by saying let's address this, solve it and then make what we're doing better" said Luke. The duo believe that it is largely down to their can-do attitude that has driven them to where they are now.
After three years of running Foxes Café, Bruce and Luke began to toy with the idea of roasting their own coffee. It would combine their shared love of great coffee with an opportunity to secure the supply of consistency high quality speciality coffee for their cafe. Bruce and Luke's Coffee business was born.
Luke explained, "We sought out help from a top coffee roasting specialist to source a roaster. We trialled a batch, which started out okay and got better and better as we refined the process".
In addition to learning the art of coffee roasting, Bruce and Luke then began operating a wholesale business. Luke says, "This was very different from running a consumer business. We established some great partnerships with regional retailers and coffee houses, but we knew early on that we wanted Bruce and Luke's to be a consumer business too".
The first Bruce and Luke's Coffee shop opened its doors in 2014 on Abbey Street, Carlisle serving its own brand of coffee and delicious donuts. Luke said "The timing was perfect. The cool coffee scene hadn't really arrived in Cumbria and so we were introducing something different. We felt that by adding donuts to our offering would give the brand a friendly, fun vibe that injected some of our personality in and kept any pretentiousness out. And anyway, who doesn't love donuts?
"By producing our own coffee and baking our own amazing donuts, we could ensure great quality as standard. The difference in what we offer customers is the excellent service and the fun and vibrant environment that we create through employing enthusiastic staff that love what they do".
The success of the first Bruce and Luke's coffee shop inspired the duo to announce ambitious plans for the future of the business. One hundred stores by 2029, no less!
As they began to look for their next venue, a proprietor in Keswick approached them. Luke said, "The location was perfect. Keswick didn't have anywhere offering great quality food and coffee to go".
The pair began to make plans for the second Bruce and Luke's Coffee shop and looked at funding options. "Our bank, The Cumberland didn't have the right product for us", said Luke. "We were recommended to speak to Grahame at Enterprise Answers, who was able to come up with a good solution. We found them really supportive of our plans to grow the business."
Chief Executive of Enterprise Answers, Grahame Latus said, "When Bruce & Luke approached us for finance to establish the Keswick outlet, we literally had no hesitation in offering our support as their brand spoke volumes. We were proud to help them grow their business presence in the heart of the Lakes and enable them to serve a wider global audience."
Luke added, "We were seeking finance based on the projected profit. Going through the application process, we felt totally confident in our brand, our business model and our profitability. We were looking for a loan that would finance our business growth, confident of a return in the investment."
Grahame said, "Bruce & Luke have demonstrated an incredible entrepreneurial flair and have channelled their energy & passion through their team to deliver a refreshing customer experience. Coffee & donuts is a simple concept, but it works particularly well because of the style with which it is delivered."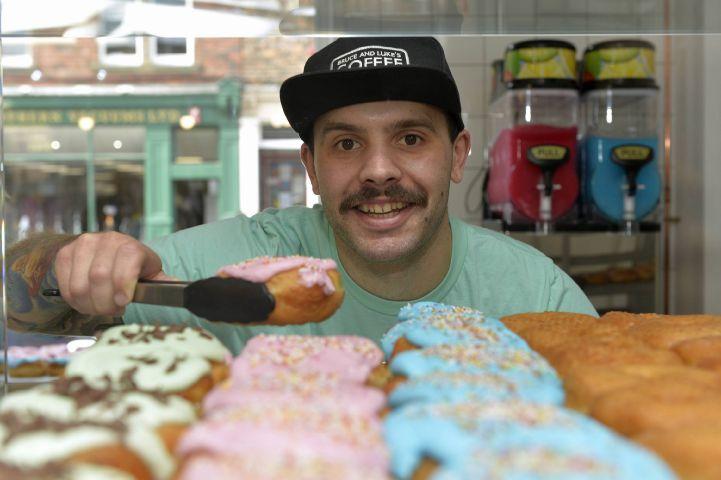 The second Bruce and Luke's Coffee shop opened in Keswick in July 2020, after a soft launch just before lockdown. Luke admits, "Covid was terrifying. Obviously, we had worries and there were new issues to contend with but there's always something that changes the game you're playing; you just have to roll with it.
"There was a fantastic reception to the new shop. The support from our social media following has been amazing and during the first few weeks, we had queues outside."
Grahame added, "Bruce & Luke have demonstrated an entrepreneurial flair that knows no boundaries. These guys will go far and their offering has shown an incredible resilience during these challenging months by serving products which put a smile on people's faces."
To find out more about Bruce and Luke's Coffee, visit www.bruceandlukes.com