One of the UK's best loved artisan cheesemakers, Mrs Kirkham's has revealed the reality of surviving the COVID-19 lockdown and how securing a government backed loan from a local independent lender, Enterprise Answers allowed the business to keep running.
Managing Director, Graham Kirkham took over the running of the business from his mother fifteen years ago. Since then Graham and a small team have been passionately developing the business, earning numerous awards for their Lancashire cheeses. The cheeses are produced using raw cow's milk from their own herd of 240 cows and are available through selected retailers across the country.
Sadly, the third-generation family business based in Goosnargh was one of many smaller food businesses to be hit dramatically by the collapse of the hospitality industry after lockdown was announced.
Graham said, "After the lockdown, we lost 75% of our business overnight. We saw forty years of growth disappear, yet we were powerless."
"Wholesalers were sending back stock and our storeroom was filling up. We weren't selling any cheese but as we're a working farm, our outgoings remained the same. It was a massive worry. We considered stopping the cheesemaking and furloughing our staff but no-one wanted to buy the milk either. One week we only sold nine cheeses, yet we knew we needed to sell 130 to break even. We had to find new routes to selling our cheese".
Like many other businesses, Mrs Kirkham's needed financial help to see them through the crisis. Graham explained, "We started to look for a solution but having never experienced this before we weren't sure what to do. I had a conversation with our bank but frustratingly, they were unable to help us.
"Our accountants advised us to seek a loan which would allow us to keep running the farm and producing cheese. They recommended Enterprise Answers, who they felt may be able to help us."
Enterprise Answers are an accredited delivery partner for the Coronavirus Business Interruption Loan Scheme (CBILS) in the North West. The CBILS scheme enables lenders to provide facilities of up to £5m to SME's who are experiencing lost or deferred revenues, leading to disruptions to their cashflow.
Chief Executive of Enterprise Answers, Grahame Latus said, "We're really pleased to have been able to assist a long established family business with the finance it requires to tackle uncertainties to its core activities, as a result of the impact of the pandemic.
"Mrs Kirkham's is a wonderful family business spanning three generations and a lovely example of all that is good about rural enterprise, encompassing the production of artisan food created from the yield of their own farm. Graham and Kellie are great ambassadors for the food sector here in the North West".
Speaking about the loan application process, Graham Kirkham commented, "The application process was simple and straightforward. I had a telephone interview with Enterprise Answers as part of the application, but rather than being daunting, it was a useful and practical conversation. My accountants then helped me complete the form."
"The following evening, I got a call from Grahame to say that the loan had been approved. The relief was immense. I felt as though a weight had been lifted off my shoulders."
"The loan from Enterprise Answers combined with the help and publicity we received has really helped us to get through the past few weeks. We were able to join a box scheme run by Neal's Yard in collaboration with Jamie Oliver, that allowed cheese producers like us to supply customers directly.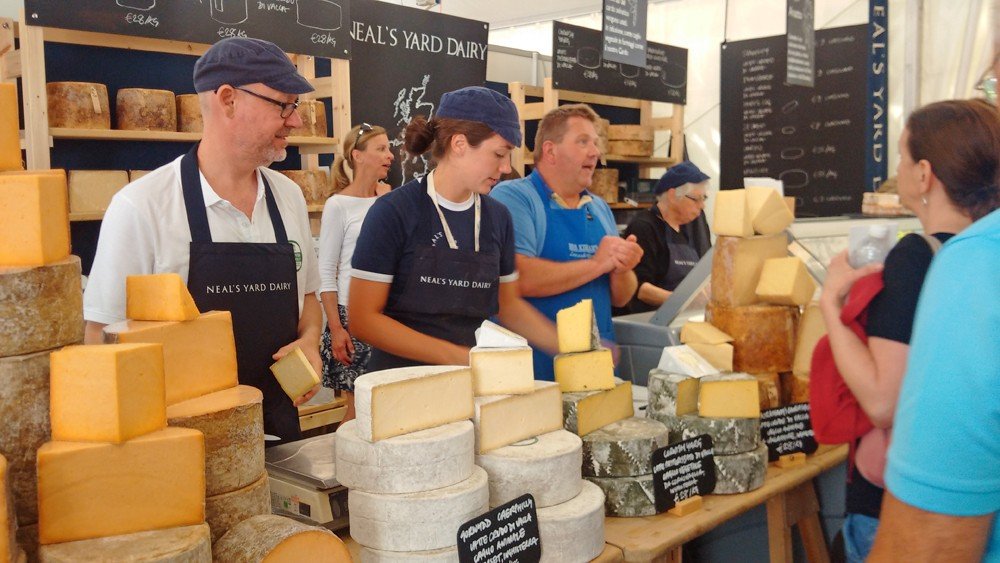 "We also attracted fantastic public support from people visiting our makeshift farm shop after being interviewed on the farm by the BBC. We started offering local delivery of our cheeses through social media and before long, other producers were bringing their produce to sell at our shop. We are now looking into creating a permanent farm shop here on the farm".
Grahame of Enterprise Answers added, "Mrs Kirkham's Lancashire Cheese Limited has a resilient business model which should enable it to successfully overcome the current challenges and emerge as a more robust business able to respond to the 'new normal', yet seize new opportunities for future growth".
The Coronavirus Business Interruption Loan Scheme (CBILS) is managed by the British Business Bank on behalf of, and with the financial backing of the Secretary of State for Business, Energy and industrial Strategy (BEIS).